Thank you to all who attended
AAOP 2020 Annual Meeting
Update & Transition to a Virtual/Online Learning Format
The AAOP 2020 in person meeting scheduled for September 4-5, 2020 at the Disney Contemporary Hotel and Conference Center is cancelled.
The Newly Approved Dental Specialty of Orofacial Pain: Bridging Medicine and Orofacial Pain Dentistry
will offer a total of 23 CE Hours via the live virtual event and the Online CE Subscription.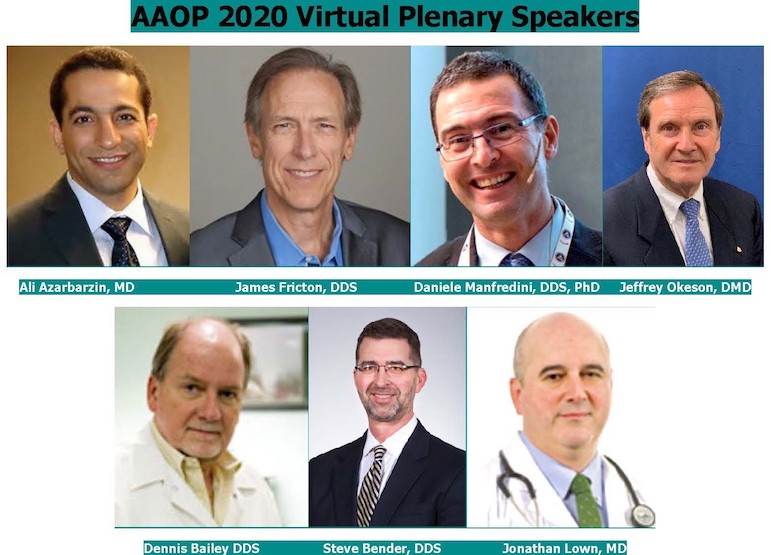 Live Virtual Meeting Portion of Program – September 4, 2020
10:00-10:15 am – Welcome Remarks & Presentation of New Fellows & Introduction of New Members & PT Board Recognition
10:15-10:30 am – AAOP Tribute to a Pillar of Orofacial Pain: Dr. Henry Gremillion : Ron Auvenshine, DDS
PLENARY SESSIONS:
10:30-11:15 am – Plenary 1 – The Evolving Dental Specialty – James Fricton, DDS
11:15 am-12:00 pm – Plenary 2 – The Evolution of a Specialty: The Facts and Fantasies from a Historic and Personal Perspective – Jeff Okeson, DMD
12:00 – 12:45 pm – AAOP Membership Meeting*
12:45-1:30 pm – Plenary 3 – Part 1: What's New in Bruxism? – Daniele Manfredini, DDS, MSc, PhD
1:30-2:00 pm – Questions and Answers: Drs. Fricton, Okeson & Manfredini
2:00-2:45 pm – Plenary 4 :Identifying Obstructive Sleep Apnea Patients Responsive to Oral Appliances – Ali Azarbarzin, MD
2:45-3:30 pm – Plenary 5 – Orofacial Pain is the Newest Recognized Dental Specialty – A Roundtable Discussion About How Sleep Medicine Fits In. – Jonathan Lown, MD; Steven Bender, DDS; Dennis Bailey DDS
3:30-3:35 – Meeting ended: Presentation on 2021 meeting
​
Online Learning/CE Subscription Portion of the Program
Presentations Currently Posted and Available on the AAOP Online Learning Subscription
CE Hours: 1.5, The Critical Role of Oral Health in Heart Attack and Stroke Prevention – Bradley Field Bale, MD
CE Hours: 0.5, Musculoskeletal Ultrasound in the Orofacial Pain Practice – Stan Farrell, DDS
CE Hours: 0.75, Botulinum Toxins; What Happens to Muscles and Bones After Temporary Paralysis? – Susan Herring, PhD
CE Hours: 1.25, Extra Oral Injections and Prolotherapy – Larry Lockerman, DDS
CE Hours: 1, Cone Beam at the Edge – Dale Miles, DDS, MS, FRCDc
CE Hours: 1.25, The Use of Arthrocentesis in the Treatment of Temporomandibular Joint Disease – Andrew Read-Fuller, DDS, MS
CE Hours: 0.75, CGRPMedications for Headache: A New Treatment Approach – Rebecca Wells, MD, MPH, FAHS
CE Hours: 1, Complimentary and Integrative Medicine for Headaches – Rebecca Wells, MD, MPH, FAHS
CE Hours: 0.75, A Piece of Mind for Piece of Mind – Risk Management Strategies – Kevin Huff, DDS , MAGD
CE Hours: 0.75, Dental Occlusion: When Does It Matter? What does the Evidence Tell Us? – Mike Racich, DMD
Scheduled Presentations that will be Posted Next
CE Hours: 0.75, Practical Screening for Sleep Disordered Breathing in Clinical Practice – Steve Bender, DDS
CE Hours: 0.75, Epigenetics & Wellness – Paul Durham, PhD
CE Hours: 0.75, Research Update: Vagus Nerve Stimulation – Paul Durham, DDS, PhD
Presentations Pending Scheduling and Recording with a planned release date of September 4th
CE Hours: 0.75, Artificial Intellegence and Augmented Reality for Orofacial Pain – A (Human) Brainstorm on How They are Revolutionizing Pain Research, Education, and Treatment – Alex DaSilva, DDS, DMedSc
CE Hours: 0.75, Placebo Effects in Medicine, Mechanisms and Acceptable Clinical Applications – Nkaku Kisaalita, PhD
CE Hours: 0.75, Its All in Your Head? Or Face? Somatization Disorders in Facial Pain – Ronald Kulich, PhD
CE Hours: 0.75, Excessive Daytime Sleepiness: Considerations In Pain and Sleep Disordered Breathing – Jonathan Lown, MD
CE Hours: 1.25, Bruxism Workshop: Assessment and Management Guidelines – Daniele Manfredini, DDS, MSc, Phd
CE Hours: 0.75, Pragmatic Approach to Pain Pharmacology – Michelle Mathews, PharmD, BCACP, CPE, FASHP
CE Hours: 1, Medical Billing: Pearls and Pitfalls – Rose Nierman,
CE Hours: 0.75, New Insights Into Migraine and the Migraine-Preventative Medication, Propranolol, for Management of Painful TMD – Inna Tchivileva, MD, MS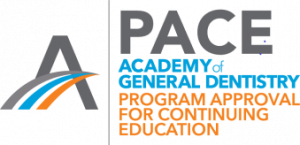 The American Academy of Orofacial Pain is a Nationally Approved PACE Program Provider for FAGD/MAGD credit.  Approval does not imply acceptance by any regulatory authority or AGD endorsement. Current Term 1/1/2019 – 12/31/2021.  Provider AGD ID # 218197
_______________________________________________________________________________________________________________
Total credit educational hours being offered at this conference are 27.5 (including core conference, pre-conference workshops, breakfast forums & lunch sessions). The core conference offers 17 CE hours. Each preconference offers an additional 6 CE hours, each breakfast forum provides 1 CE hour and each Lunch and Learn provides 1.5 CE hours. Each attendee should claim only those hours of credit that he/she actually spent in the education. Workshops, breakfast & lunch sessions all require additional registration.