Editors: David A. Keith BDS, FDSRCS, DMD, Ronald J. Kulich PhD, Michael E. Schatman PhD and Steven J. Scrivani DDS, DMedSc
Dental Clinics of North America, Volume 67, Issue 1, January 2023 Elsevier
Reviewed by: Shuchi Dhadwal D.MD.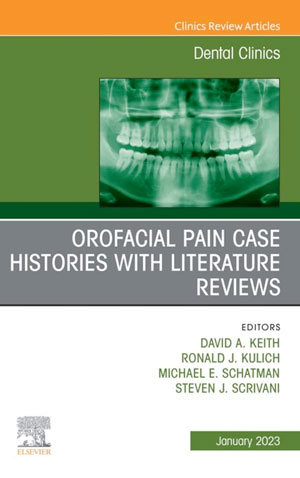 In this edition, the authors have presented various orofacial pain conditions in a case history format with literature review and evidence-based treatment options.  The comprehensive presentation of the cases helps the reader to understand the authors thought process in formulating a diagnosis and treatment plan. The knowledge shared in this book will be helpful for all medical and dental professionals who manage patients with Orofacial Pain and Headache disorders.
The text covers a wide array of topics that present in clinical practice on a daily basis including Temporomandibular joint disorders, Trigeminal neuropathies, and Headache disorders. The classifications tables, current pharmacotherapy regimens and updated treatment recommendations for all these conditions is a helpful resource.
Managing Chronic Orofacial Pain Patients can be a challenging and humbling experience. Most training programs provide extensive clinical experience in managing Chronic pain patients with interventions or Pharmacotherapy. However, many clinicians are at a loss when these patients have psychosocial comorbidities. The chapters on Posttraumatic Stress Disorder and the Role of Psychosocial Comorbidities discusses behavioral therapy and Interdisciplinary pain rehabilitation programs and offer helpful advice.
Clinicians always need to be cautious about any pathology that can potentially cause Orofacial Pain. A detailed insight on clinical features and management of such conditions is highlighted in the chapters on Pathology Mimicking Orofacial Pain and Head and Neck Cancer Related Pain.
The chapter on Challenges for the Dentist in Managing Orofacial Pain   discusses the arduous journey of a patient who has seen 14 providers and finally gets a diagnosis. It emphasizes the fact that the welfare of the patient should be the primary goal and highlights the extensive, irreversible and unnecessary treatments that the patient underwent including orthodontics and full mouth rehabilitation.
Another chapter on Language Access and Orofacial Pain highlights the challenges faced by a patient who has limited English speaking skills. It emphasizes that clear communication improves clinical outcomes and decreases health care cost. The section on working with interpreters in the clinical setting is extremely helpful.
This issue of the Dental Clinics of North America provides a great deal of useful clinic information into the assessment and management of the patient with orofacial pain in a unique format. It is recommended for all clinicians who see these patients.