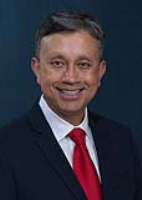 Andres Pinto, DMD, MPH, MBA, FDS RCS (Edin),
Dr. Pinto has 22 years of experience in the management of oral and maxillofacial disorders, including orofacial pain. He is the Founding Chairman of the Department of Oral and Maxillofacial Medicine and Diagnostic Sciences at Case Western Reserve University, Professor of Oral and Maxillofacial Medicine, Assistant Dean for Graduate Studies, and a member of the Divisions of Oral and Maxillofacial Surgery and Pediatric Dentistry at the University Hospitals Cleveland Medical Center. He is also a Professor in Medicine, and Otolaryngology ad Case Western Reserve School of Medicine. He is the founding Director of the multidisciplinary Oral Medicine and Orofacial Pain Clinic at Case Western, and is the current (2019 – ) President Elect of the American Academy of Oral Medicine. Prior to moving to Cleveland, Dr. Pinto was an Associate Professor and Director of Oral Medicine Services at the University of Pennsylvania, and had an intramural practice focused mostly on the diagnosis and management of orofacial pain. He has been a member of AAOP for 15 years.
Q&A with Dr. Pinto
1) How did you get interested in the field of Orofacial Pain?
I believe orofacial pain is a firmly underreported area in Medicine and Dental Medicine. Our dental training, supplemented by formal training in the specialty and continuous learning, allows us to provide critical input to diagnosing chronic pain affecting the head and neck. I am an academic dentist with a strong interest in clinical research and patient care. Over the years, the specialty attracted me due to the overlapping presentation of medical comorbidities with orofacial pain complaints and the unique patient presentations. These symptoms often involve dental supporting structures, making us uniquely positioned among all healthcare providers to bridge our knowledge in both fields for patient benefit and relief. The broadness of Orofacial Pain and involvement of psychological and patient coping variables transform the treatment of these cases into a real interprofessional effort. It is a never-ending challenge to keep up with changing knowledge, the addition of sleep medicine, and remember the basic science content like pharmacology and neuroanatomy that underlie the practice of the specialty.
2) How do you feel that the field of Orofacial pain has evolved over the years?
My initial exposure to Orofacial Pain was attending a lecture by Dr. Joseph Marbach while I was in residency training. It was eye-opening and supported some of the complex cases we were seeing in the clinic. Trailblazers like him and many other leaders and founders of the AAOP set the stage for a barrage of research describing purported mechanisms underlying classification and diagnostic criteria. I think we are almost at par with other medical specialties, like headache medicine, thanks to the tremendous effort done by so many to produce standard classification criteria and evidence-based care. Biologic and epidemiologic studies done in the past three decades translate into paradigm changes in care algorithms, enhance clinical outcomes, and of course, produce more research questions for future academicians and clinicians in the field. The recognition of Orofacial Pain as a specialty is the latest thrust to get us on the map regarding health care teams and branch out into clinical practice, team science, and research avenues.
3) The most challenging and rewarding aspects of caring for patients with Chronic Pain?
Patients with chronic pain require, as we know, a personalized approach and keen observation skills. I am always trying to phenotype my patients from our initial encounter, with the assistance of valid questionnaires, body posture, language, eye movements. Every patient is different, and the key to successful care is to understand expectations, the burden of pain, resilience capacity, and the ability to enhance the patient's coping skills. This requires practice and time. To me, this is the most relevant challenge. Of course, the fact that many individuals present with more than four or five OFP diagnoses, in addition to Axis-II involvement, demands us to recognize when appropriate co-treatment with other specialists is required.
Also, seeing a patient for the first time after several other clinicians is particularly challenging, as the healing process is often slow, especially when the initial diagnosis is not correct.
The most rewarding aspect of caring for patients in chronic pain is when I can make a real difference in their quality of life, enjoyment, and mobility. With chronic pain, complete relief is rare, but when you can modulate patient biology and their ability to help themselves, it is very gratifying. I also enjoy carrying these sentiments to my trainees to realize how impactful they can be in these cases.
4) What advice do you have for the members who are starting their carrier in the field of Orofacial Pain? Suggest some resources that were helpful to you.
First and foremost, enjoy the ride! You may think you are always playing catch up compared to your mentors and professors, and the reality is that you are acquiring skills at a geometric pace. Fostering mentorship relationships is essential. In a small specialty like OFP, the ability to share experiences and case discussions must be sustained across geographic and academic boundaries. We all learn from each other at any time of our lives. Personally, I actively looked to get additional training and shadowed several individuals over thousands of hours. I also engage in more than 300 CE hours per year in this topic and try no to miss attending at least three meetings related to OFP per year. With the virtual scene now, this is even easier, although I do miss the personal connection with friends and peers. I also suggest board certification as a must for anyone starting in the field and making a habit of reading relevant papers at least once a week on hot pain topics. The medical pain literature is also constructive to provide a backdrop to where we are and where we need to go.
5) What do you like to do in your free time?
Although I am tenured, I work long hours and see patients about 50% of my time. This is in addition to heavy administrative and teaching loads.
I do enjoy spending time with my family, walking outdoors, and reading. We have a small box at home where all cell phones "go" when returning from work. Renewal is essential to me, and I take time "away" from work several times a year to recharge.
I love history in general and garble books about different themes on management and organizational behavior. I also have a black belt in Shotokan karate since 1990 and try to keep some of those skills alive (getting more complicated every day). Thank you for the opportunity to participate in the newsletter, and I look forward to another thirty years as part of AAOP and this select group of clinicians who help people who suffer.