The AAOP spotlight highlights our members' achievements, contributions, expertise,
and personal journey.  We recognizes and appreciate our members' accomplishments,
ability to inspire others, and strengthen the sense of community within our organization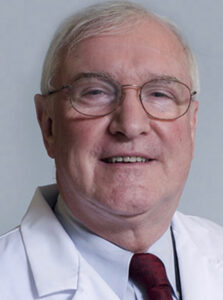 Dr. David Keith, DMD,
Professor of Oral and Maxillofacial Surgery at Massachusetts General Hospital
How did you get interested in the field of Orofacial Pain?
By default! I was working at a London, UK Teaching Hospital in the early 1970's and seeing a lot of patients with OFP. I found this both fascinating and challenging so I suggested to my boss that we start a Clinic. Guess what? I was put in charge, given a room and as many patients as I could handle. A few years later I moved to Boston and was extraordinarily fortunate to be working at the Massachusetts General Hospital, Oral and Maxillofacial Surgery Department where their renowned Chief, Dr Walter Guralnick, had a long term interest in both the surgical and non-surgical management of TMD and OFP in general.This opened up for me an entire world of medical and interdisciplinary management strategies and collaborations which have continued to this day.
How do you feel that the field of Orofacial pain has evolved over the years?
The chief and most important development has been the move towards a scientific and evidence based approach to OFP. Much more needs to be done to undertake prospective studies and population based surveys. Basic science needs to be encouraged and funded. Adopting medical management strategies is the future and the challenge is to translate research findings into dental practice. We have become more organized, but still have a long way to go to encompass all points of view. Many more CODA approved programs are needed to meet the needs of patients all over the country. We are way behind our colleagues in other specialties in providing even basic OFP care in underserved communities.
The most challenging and rewarding aspects of caring for patients with Chronic Pain?
The challenges have been many and are well recognized-lack of accurate diagnostic tools, poorly understood treatment modalities, the overwhelming number of patients seeking care, the misinformation available to patients and lack of training opportunities are top of mind. This is not to mention the regulatory and insurance environment which make a career in OFP difficult to navigate. However, the rewards are extensive-caring for patients in pain is a privilege and both satisfying and fulfilling. Although the results may not be always what we hope for the gratitude of patients is heartwarming. Contributing to the specialty and our field of knowledge is rewarding. Sharing ideas, results and problems with our colleagues is invigorating and can lead to unexpected avenues and results.
What advice do you have for the members who are starting their carrier in field of Orofacial Pain?
Suggest some resources that were helpful to you. With a passion for the subject the key is to keep on persevering. Trying to help patients, advance the field, teach others and be continually curious about the possibilities. The AOFP provides a strong leadership position for future advancement. Medical journals and allied conferences are a rich resource. More than anything else the advice and encouragement of our colleagues moves us all forward. Teaming up with care givers of all types is always productive.
What do you like to do in your free time?
I still do 'academic stuff'-teach, write, edit, research, lecture and mentor which now that I am retired is a great way to give back for all the help and encouragement that I have received from my colleagues and mentors in the past. Above all -it's fun!
Thank you to all who made our 2023 meeting a success!
We look forward to seeing you in Arizona!
48th SCIENTIFIC MEETING
May 9 – 12, 2024
Talking Stick Resort, Scottsdale, AZ