2023 AAOP President's Message
2023 AAOP President's Message
Jeffrey I. Goldberg DDS MS MBA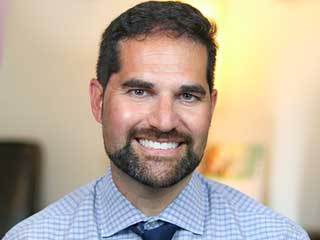 Some day I will be an old man.
At least I hope so.
Some day I will be an old man.  At least I hope so.  It seems to me that old men and women always have stories; stories about how things changed and how their lives intersected with those changes.  Stories about being in the right place at the right time, and often in the right place before it even was the right time.  It is with eternal gratitude to the pioneers and leaders in our field that I can now look forward to telling my stories.  How I was there before, during and after the time when my chosen profession became validated as a specialty.  We are there right now.  It is happening right now, and we are the ones who will have the tremendous privilege of some day looking back and saying how we were there.  How we shaped the future and set the rules.  How orofacial pain as we know it came to be back then in the roaring 2020's.
It is no exaggeration to say that this is a moment in history.  It has been three years already, but with the COVID pandemic, it seems like we are just now really coming into the light and fully embracing what has happened.  There could be no more exciting time to be in orofacial pain, and to be part of the AAOP, and especially to get involved as a leader or educator.  I will gladly tell anyone this is a big part of my motivation to become president.  I love the field, and I love the people I have gotten to know in the field.  But I also love the idea of being here, at the heart of it, as the world is changing, and every one of you reading this is welcome to join in.

For those who were fortunate enough to attend our annual meeting in Orlando, I hope you will agree that there was great energy in the air.  The speakers were fantastic.  Mariona and Alex and their organizing committee did a phenomenal job selecting such outstanding presenters and topics, and lining them up to create a real experience.  Outside of the lecture hall, people were talking, learning, sharing, and improving.  If you missed it, please don't miss it again – plan now to join us next year in Scottsdale, and get online to see the lectures and share ideas.
As we move forward into the new year, our board has established three major objectives.  Number one is marketing.  That is no simple concept.  We will be developing a comprehensive marketing plan taking into account different audiences, different messages, and different vehicles to get those messages out.  We will be looking at marketing our services to referring providers, marketing the AAOP to potential members, marketing the specialty to dental students and practicing dentists, and more.  Number two is education.  AAOP enjoys a reputation as the premier resource in our field for evidence-based, reliable information.  We are going to build on that, producing our own content, endorsing content from other sources that has merit, and even collaborating with significant education institutions to promote awareness, raise revenue, and of course disperse quality education.  And thirdly, we are evaluating our membership and dues structure to ensure a sustainable future and to make AAOP work for different groups of members.  At a time like this, we face some fundamental questions about who AAOP represents and serves, and what the future looks like, and I am amazed at the brilliant people we have tackling these issues.
We need smart, dedicated, thoughtful people.  Whatever your strengths and interests, there is a place for you.
There could be no better time to get involved.  AAOP has nearly twenty committees, and each one will continue to be very productive in the year ahead.  We have a new system in place to ensure accountability, transparency, and collaboration so the committees can perform at the highest levels.  We need smart, dedicated, thoughtful people.  Whatever your strengths and interests, there is a place for you.  Please get in touch with me or our secretary elect Brijesh, who will be overseeing the committee system, to find out how to get started.  I can promise you it will be one of the most rewarding parts of your career in this field which we are all so fortunate to be a part of.
Finally, I would like to thank Dr. Bob Mier for his incredible leadership this past year.  His hard work and intelligent management will leave an impression for many years to come.  To me personally, he is an example I look up to as a man of character and integrity, and I will do my best to keep building on all that he has accomplished.  Good job, old man!
Thank you to all who made our 2023 meeting a success!
We look forward to seeing you in Arizona!
48th SCIENTIFIC MEETING
May 9 – 12, 2024
Talking Stick Resort, Scottsdale, AZ