Member Spotlight Winter 2023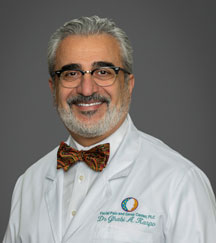 Dr. Ghabi Kaspo
Dr. Ghabi Kaspo has been practicing dentistry, primarily in the field of Orofacial Pain Management and TMJ Disorders for the past twenty years. His scholastic achievements include: a D.D.S. and a D. Orth. from Damascus university; a D.D.S. from University of Detroit Mercy; and a Certificate of training in TMJ and Orofacial Pain Management from University of Medicine and Dentistry of New Jersey. He received a Certificate of Training in TMJ and Orofacial Pain Management after completing a one-year full time fellowship program. He also earned a diplomate for the American Board of Orofacial Pain. He is the former president of the Central Branch of the Detroit District Dental Society. He is the past president of the National Arab medical Association-Michigan Chapter.
Dr. Kaspo is a Diplomate of the American Board of Dental Sleep Medicine.   Dr. Kaspo, lectured internationally, nationally and locally.  Also, he has written numerous articles related to TMJ Imaging, Fibromyalgia in TMJ patients, and Sleep Disorders in TMJ patients. He also authored chapters relating to headaches, sleep disorders and TMD in Fibromyalgia. His practice is exclusively devoted to treating Orofacial Pain and TMJ Disorders patients. He believes in a multidisciplinary approach and, it is imperative that he works very closely with his patients and referring doctors to achieve optimal treatment results. Dr. Kaspo is on staff at St. Joseph Mercy Hospital of Pontiac, Henry Ford of Macomb and Wayne State University – Detroit Medical Centers.
How did you get interested in the field of Orofacial Pain?
After moving to the US from Syria in 1986 and practicing orthodontics for a couple of years, I used to refer my TMD patients to a couple of dentists (TMD experts) that I was not too fond of their approach to treating my patients, repositioning the condyle using Gelb Appliance.  I also attended a few seminars by John Witzig and others, which did not satisfy my need to know more about TMD.  I read an ad by the UDMNJ (Rutgers) 1991 in the Journal of Cranio opening for 2 Fellowship positions. I spoke to Dr. Dick Pertes and met with the faculty in the program. I also spoke to Dr. Jeff Okeson at that time. Kentucky program was already closed for new applications, and the NJ program had one opening available; I took it.
How do you feel that the field of Orofacial pain has evolved over the years?
After my Fellowship program at Rutgers and being part of the AAOP, I saw the field was already changing, even during my residency program in 1992. At the Fellowship program, with the open-mindedness of the faculty and the direction of the AAOP leadership, the field has changed. Do not forget that my orthodontic background was very conservative; I did not believe every TMD case should be treated using braces, twin blocks, or full mouth reconstruction to capture the disc or solve the problem.
The most challenging and rewarding aspects of caring for patients with Chronic Pain?
There are two challenging groups of patients; the first group is the chronic pain patients with other mental comorbidity factors are the most challenging patients, especially when the patients deny any psychological or mental issues, they come back to be treated, they do not want to be in be seen in a multi-disciplinary clinic.
The second group is the young children and teens patients with obvious degenerative TM joint disease, with negative serological testing. Pediatric rheumatologists refuse to treat them if they do not have positive serological tests and positive effusion in the TM joint marrow. Some of these patients suffer a lot from TM joint pain and dysfunction.
The most rewarding is making our patients pain-free.  Explaining the disease and making them understand the process, reviewing the CBCT, and MRI in real time with them, and explaining the reason for their pain enough to leave the office happy, hens the disease is still there.
What advice do you have for the members who are starting their carrier in the field of Orofacial Pain? Suggest some resources that were helpful to you.
I look back to 1993; when I finished my Fellowship, I was advised by my mentors, Dr. Dick Pertes, Dr. Gary Heir, and Dr. Hal Cohen, to establish and limit the practice to orofacial pain.  I returned to Michigan, opened my private Orofacial Pain Clinic, and was determined to practice OFP only.  There was a struggle in the first 3-5 years; back in 1992, there was no recognition of the field of OFP; other specialties hammered us.
I became on the staff of a few hospitals, and through people whom I met and because of the physicians' groups, I got involved with most medical insurance companies.  Physicians do not like their patients paying cash for any medical treatment, which is why all the referring physicians were happy to refer their patients to a formally trained dentist in orofacial pain and Temporomandibular Disease.   I advise the new OFP specialist to go to real life, meet other dental and medical specialties, and be involved in organized dentistry and other local pain, headaches, and sleep organizations.  There will always be a need for our services.
What do you like to do in your free time?
I love wine; I tried to make wine for three years, but it turned to vinegar; thinking back, I needed to use the proper temperature, humidity, and storage. So, I decided to build a wine cellar; I have about 350 bottles of wine, and the most I paid per bottle was about $975 pre-release; the value went up to $1500 after they released the wine to the market.
I love making chocolate, making pizza, and cooking gourmet food.