Remembering Dr. Henry Gremillion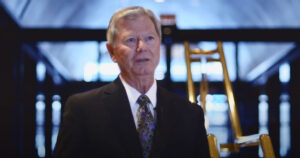 May 18th of this year the American Academy of Orofacial Pain and dentistry lost a great member. A wonderful teacher, lecturer, anatomist and friend to many people but to me he was as close as a brother. Our friendship spanned forty seven years.
You see, Henry's first day dental school at LSU was my first day as a postdoctoral fellow in the Department of Anatomy at LSU medical school and my teaching responsibility was first year dental gross anatomy. Henry and I spent many hours over a cadaver table during that year. We had many great conversations. One of our shared goals was to teach and we thought, wouldn't it be great if we could teach together.
Fortunately, we had the opportunity to do just that for over 20 years and many of the courses we gave were to this Academy. Because of the fact that I was involved early on in his life as a dentist, I was able to observe every phase of his career. Upon graduation, Henry returned to his hometown of Cottonport, Louisiana, a small sleepy community north and west of Baton Rouge. He practiced there for twelve years and during that time Henry became a CE junkie. He took every course that was possible. He earned his Masters in the Academy of General Dentistry. But during that time he became extremely interested in orofacial pain and TMD to the point where he sold his practice and entered a two year residency program at the University of Florida School of Dentistry under the direction of Dr. Parker Mahan.
Henry just knew how to make ordinary events "special". He knew how to make people feel "special". Yes, he lived a wonderful life
Upon completion of that program he joined Dr.Mahan's faculty at the Pain Center and remained there, becoming the Director upon Dr. Mahan's retirement. During his almost thirty year career at University of Florida not only did he earn honors as a lecturer and a teacher but he also lectured extensively throughout the United States and abroad. His courses were very popular. He became extremely well-known during that time.
In 2008 Henry was selected as Dean of LSUSD. He was the 6th Dean of the school and the first alumnus to hold that position. In 2005 Hurricane Katrina had devastated the dental school. The first floor of the school remained underwater for almost a year and they didn't know whether or not the school would even survive but Henry accepted the challenge and through his hard work and perseverance and bringing on a strong faculty, he was able to resurrect the school and make it the powerhouse that it is today.
Henry's honors are too numerous to name. He was a friend to everyone he met. He was probably the most giving person that I've ever known. When he met people, he made it a point to get to know all about them.  As Henry and I would walk through the halls of the dental school, he knew every person we would meet. I don't care if it was the person who opened the door for us as a security guard or the person who served lunch in the cafeteria or someone who worked in the pedo department, he would call them by name and ask about their family. He knew the personnel there at the school and they loved him. The faculty adored him.
Henry was a family man. He married his wife Mackie in 1974. Together they had four children. He was a loving husband, father, a grandfather but he was also a gourmet cook. He and Mackie's hobby was cooking and dinner at the Gremillion table was equivalent to any fine restaurant in the city of New Orleans and anyone who is eaten dinner at the Gremillion's will attest to that fact.
But if you were to ask me what is the distinguishing characteristic of Henry Gremillion, I would say it's his captivating smile. Henry just knew how to make ordinary events "special". He knew how to make people feel "special". Yes, he lived a wonderful life. He accomplished many wonderful things. We will greatly miss Dr. Henry Gremillion.
Words and video by Dr. Ronald C. Auvenshine